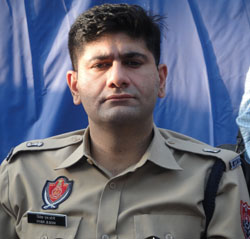 By Babushahi.com
By SK Vyas
JALANDHAR,Nov 24, 2015 : Tightening noose against the criminals in the district Sandeep Sharma Police Commissioner,Jalandhar has instructed the Criminal branch to look into the criminal activities of unwanted elements in the district.
Today Vivek Sheel Soni ADCP (Investigation) Jalandhar today busted a gang of miscreants involved in theft and snatching.
ACP Soni said that Inspector Sukhjit Singh incharge CIA Staff,Jalandhar on 24.11,15 formed a party headed by ASI Hera Singh at Jalandhar where on tip off swung in to operation and nabbed three miscreants,identified as (1)Amit Kumar alias Meeta s/o Puran Chand caste Bhagat Wasi living on rent near Mand Palace,PS Basti Bawa Khel,Jalandhar.(2) Krishan Kumar alias Balla Son of Surinder Kumar resident of House No 68/6 Bhargo Camp,Jalandhar and Balvinder Singh S/o Gurmukh Singh caste Valmiki resident of Gali No 10 SAjit Nagar Shahidan Da Gurudwara PS Rama Mandi Jalandhar.
ACP S Said that the modus operandi was that these three criminals had been committing theft,even today a Motor Cycle bearing No PBO6 C 5998 on which the accused were riding were going to sale the mobile after committing theft, were going from Patel Chowk towards Workshop Chook to settle price of the stolen mobile were nabbed and an FIR bearing No 175 dt 24.11.2015 under section Section 380,411,34 of Indian Penal Code (IPC) at P.S Division No 2 Jalandhar registered and during an investigation recovered 9 stolen Mobiles phone of different make and Four Motor Cycles (Stolen) and a Gold ornament was recovered out of their possession.Soni said that all these criminals had a criminal background and involved in many cases.
In another case,Likewise ASI Resham Singh CIA Staff Jalandhar registered a case FIR N0, 184 of dated 22.11,2015 under section 379 ,411 and 34 of the Indian Penal Code(IPC) Police Station Division No 7 Jalandhar on the statement of Lalit s/o Dev Raj Caste Gill r/o H No 222 Bank Enclave Jalandhar, against Rahul s/o Som Lal caste Valmiki resident of Kalia Colony,now living in rented house at Gali No 11 Shaheed Babu Labh Singh Nagar,near Fouji Da Mandir Burlton Park,Jalandhar.
Relating the story Lalit said that his sisters Sonia and Monica which are working as Government teacher at village Goraya. That on dt 5.11.1015 at about 4.50 pm were returning home on rickshaw ,when they were disbursing the fare money to riksha pullar,meanwhile two youth muffled one of them his face sitting at pillion seat of the motorcycle suddenly crapt in and snatched my sister's purse in which one mobile ,make A116 United Micromax and other important documents were there. ACP said three more Mobile phones make Micromax and two Nokia mobiles were recovered out of his possession.
He said investigation is continuing,more fact likely to come light.....
The Contents of this News / Article are Protected by Copyright. Republication in any form is Prohibited.